Village symbols of Vyšná Pisaná are recorded in the Heraldic Register of the Slovak Republic, under signature V – 172/2001 in the following order:
Village Coat of Arms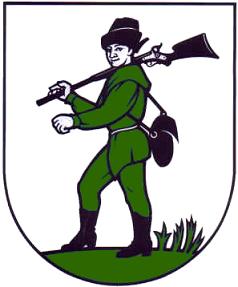 Silver shield with green, round, and on the left hand side grassy greensward with walking man looking towards the observer. He is wearing a green garment, black hat and boots. He is carrying a black haversack on his left shoulder and his right hand is holding a barrel of the gun rested on his right shoulder.
Village Flag
The flag consists of three longitudinal stripes in white (2/5), black (1/5) and green (2/5) colours respectively. Its side ratio is 2:3 and it ends with three tips, i.e., trims, reaching up to one third of its sheet.
Village Seal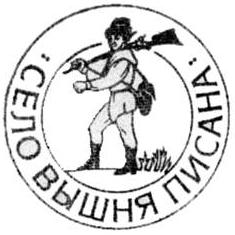 The seal is round-shaped, with village symbol in the middle and round inscription: OBEC VYŠNÁ PISANÁ. Alternative seal has the inscription in Ruthenian language: СΕЛО ВЫШНЯ ПИСАНА